Need Reliable Movers ?
Relax while we work, Baltimore Movers Will Make Moving Easy!
Most of our Business comes from repeat and word of mouth.
Welcome to the Movers Baltimore MD Moving Services Company provided by Movers Baltimore. We would like to take this opportunity to show you how we can provide the best residential(house), commercial and office moving service using the highest quality equipments at affordable rates. Movers Baltimore MD Moving Services Company provided by Movers Baltimore offers fast, friendly and courteous movers services. We use only the best equipment and maintain a skilled staff to answer all your moving needs.
Baltimore Movers MD is authorized and bonded moving company through the Unites States Department of Transportation. Our pursuit is generally to give a total top quality service that is more than our customers expectations. We'll provide your entire local residential and business needs in courteous and professional way.
Call us today at Toll Free : 1-877-890-1163 / Local: 443 570 6410 or simply fill out the Free Estimates form and receive a free, no-obligation estimate from one of our moving consultants.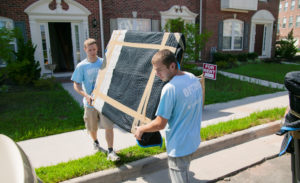 No job is too big or small for us, and in accordance with this we provide a wide array of services:
– Local & Long distance moving
– Commercial & Residential moving
– Loading & Unloading – Pods, Trucks
– 24 hour operation
– Full or partial packing, full or partial unpacking.
Movers Baltimore MD has established its standing on superb client service. We are proud that recommendations account for a really significant part of our business. Obtain an easy FREE QUOTE and notice why lots of people enjoy utilizing our local and long distance moving company in Baltimore MD for their demands. Aside from that, our staff is here to help you with pre-move planning and coordination, directing our customers from start to finish.
Movers Baltimore MD currently service commercial and residential customers. Whether you`re moving across the country or across the street, Baltimore Movers MD is here to help you through your moving process.
We are a full service moving and storage company that proud to serve all your moving needs in Pennsylvania, Maryland, Virginia and Washington DC area.
Our licensed professional movers carefully handle boxes, furniture, commercial items, and even pianos. All your items will be insured during packing and local transportation.
With your moving budget in mind, Optima Moving offers a choice of payment methods, and great deals and discounts on low-cost, Flat-rate or by the hour relocatoion services .
Hiring Baltimore movers is a big event. Don't trust your possessions to just anyone! Movers Baltimore MD, a Baltimore Moving Company, has been providing customers in the Baltimore area and beyond with superior Baltimore Residential Moving Services and Baltimore Commercial Moving Services at terrific prices. Movers Baltimore MD have a solid track record of customer satisfaction in residential moving, corporate moving, local moving, long-distance moving, and secure storage. Contact Optima Moving Professional Movers, now and let us start helping you. Make the right move with Movers Baltimore MD, your Baltimore Local Movers and long distance movers!
Optima Moving : If you are moving from condo, house, townhouse, or apartment Movers Baltimore have professional moving experience that you will need to have a fast efficient stress free move. Knowing how inconvenience moving can be on you Movers Baltimore will not only have your move done same day with in hours your move will be completed! We accomplish this by having professional movers also by having proper moving equipment to make the move faster, easier, safer. You can relax with a piece of mind know your household good are safe with a professional moving company that cares about their customers' moving needs.
When the need for Optima Moving arise, one call will save you time, energy and money. As one of the most professional moving companies in Baltimore Maryland we supply a number of moving services that are sure to exceed your expectations. Whether you need local movers in Baltimore or if embarking on a long distance moving adventure, the team at Movers Baltimore is ready to facilitate your relocation with ease and efficiency.
Thousands of satisfied customers have reaped the benefits of our Baltimore moving and storage services. Our Baltimore movers are thorough and have been known to go above and beyond the call of duty to provide exceptional service. We invite you to experience what Movers Baltimore MD is all about. We provide a comprehensive and pleasing move to every customer, every time.
Optima Moving and Storage is a full-service moving company. We provide the highest quality of packing and relocation moving services at the most reasonable cost.
Optima Moving provide free relocation moving estimates , not only through our website, but also by phone and in person * .
We are confident that, once you have compared our moving relocation prices and packing services with our competition, you will find our quality of service, competitive van line movers prices, and expertise the smart choice for all of your relocation moving needs. We own and operate our own fleet of trucks as well as a state-of-the-art, secure storage facility.
Optima Moving will handle your move from the moment of pickup until it is safely delivered to your new home. By handling your entire move from start to finish, Optima Moving ensure the best service at the most competitive rates.
Call us today at Toll Free : 1-877-890-1163 / Local: 443 570 6410 or simply fill out the Free Estimates form and receive a free, no-obligation estimate from one of our moving consultants.