Are Moving in Maryland ?
Need Reliable Movers ?
Relax while we work, Bowie Movers Will Make Moving Easy!
Most of our Business comes from repeat and word of mouth.
Optima Moving – Bowie Movers MD is authorized and bonded moving company through the Unites States Department of Transportation. Our pursuit is generally to give a total top quality service that is more than our clientele expectations. We'll provide your entire local residential and business needs in courteous and professional way.
Local Movers Bowie MD is a nation wide full service moving and storage company that proud to serve all your moving needs in Bowie Maryland. Whether you`re moving across the country or across the street, we`re here to help you through your moving process. Our licensed professional movers carefully handle boxes, furniture,commercial items, and even pianos.
The beauty of moving is that it comes in all different shapes, sizes, and colors. And we know exactly how to handle all the different permutations, so you don't have to. That's why moving with us is moving made simple. We take it so seriously, so you don't have to. If you demand the following from your movers, Bowie Movers & Moving is right for you.
No job is too big or small for us, and in accordance with this we provide a wide array of services:
– Local & Long distance moving company service in and near Bowie Maryland, MD
– Commercial & Residential moving
– Loading & Unloading – Pods, Trucks
– 24 hour operation
– Full or partial packing, full or partial unpacking.
For more information and FREE estimate please give us a call 1-877-890-1163 , (410) 774-3980 or email us at: optimamoving@aol.com
Bowie MD – Local Movers and professional movers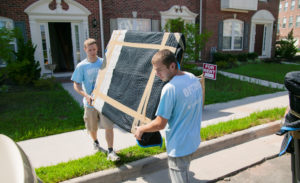 Movers Bowie MD has established its standing on superb client service. We are proud that recommendations account for a really significant part of our business. Obtain an easy FREE QUOTE and notice why lots of people enjoy utilizing our local and long distance moving company in Bowie MD for their demands. Aside from that, our staff is here to help you with pre-move planning and coordination, directing our customers from start to finish.
Movers Bowie MD currently service commercial and residential customers. Whether you`re moving across the country or across the street, Bowie Movers MD is here to help you through your moving process.
We are a full service moving and storage company that proud to serve all your moving needs in Pennsylvania, Maryland, Virginia and Washington DC area.
Our licensed professional movers carefully handle boxes, furniture, commercial items, and even pianos. All your items will be insured during packing and local transportation.
With your moving budget in mind, Bowie Movers offers a choice of payment methods, and great deals and discounts on low-cost, flat-rate or by the hour relocatoion services .
Bowie Movers and Storage is a full-service moving company. We provide the highest quality of packing and relocation moving services at the most reasonable cost.
Bowie Movers provide free relocation moving estimates , not only through our website, but also by phone and in person * .
We are confident that, once you have compared our moving relocation prices and packing services with our competition, you will find our quality of service, competitive van line movers prices, and expertise the smart choice for all of your relocation moving needs. We own and operate our own fleet of trucks as well as a state-of-the-art, secure storage facility.
Bowie Movers MD will handle your move from the moment of pickup until it is safely delivered to your new home. By handling your entire move from start to finish, Movers Bowie MD ensure the best service at the most competitive rates.
Pack it up with Bowie Movers
With Bowie Movers you get skillful assistance beyond simply moving your belongings to your new home. They are delighted to come through for you with packing. And you can be assured they have the experience to do the job exactly right. With prices for packing tape, boxes and other moving necessities lower than your local supplier, Bowie MD Movers can provide everything you need.
If you get boxes free at local food shops, you will find they are not as strong as real moving cartons. Getting used boxes from local stores might save you a few dollars but the savings will pale if you reach your destination with broken belongings. The Bowie Movers can provide you with sturdy boxes made just for the purpose of moving.
At Bowie Movers you can find boxes of all sorts, including some that are custom made for particular tasks. Tall boxes complete with a bar across the top are suitable for hanging clothing from your closet for moving, for instance. Boxes designed to transport dishes are often more square than regular packing boxes. Mirror boxes are long and slim, with an interior cushion layer to protect the glass. You can also find cartons especially designed to transport files and folders. Available at many Bowie Movers, these come equipped with a lid that lifts up to make getting at your documents less awkward.
Bowie MD Movers Can Handle Difficult Jobs
Large appliances, including stoves and refrigerators, may present difficulties during a move. If you're moving your fridge, the Bowie Movers recommend emptying and unplugging it at least 24 hours prior to your move. When you empty your refrigerator, donate or give away food that needs refrigeration. Put charcoal, fresh coffee grounds, or baking soda inside stockings, and place one in every fridge compartment. Unpleasant odors will be eliminated, so that your fridge and freezer will smell clean once you arrive at your destination.
You should disconnect computers, stereos, and other small electronics from all their component parts, and pack them together as much as possible. Before transporting these items, the Bowie Movers personnel may ask you to check that they are functioning by plugging them in. This is for the protection of both parties – if your belongings get damaged, they need to be sure they were in proper working condition to begin with.
Experts from the Bowie Movers will tie down appliances with bungee cords or straps that have been designed especially to secure heavy objects in the truck. Because the purpose of these belts is to hold appliances securely against the inner walls of the truck, you needn't be concerned that they might slip or shift around while in transit.
On the Road with Bowie Movers MD
The most significant part of any move is the truck. With expert Bowie Movers you can be sure the truck has plenty of room for everything you own.
In order to minimize the cost for mileage, and complete your moving trip without wasted time, having the right size truck makes a big difference. It should really take only two trips at the most to transport everything you own. With reliable Bowie Movers to pack your possessions efficiently, this goal should be easy to meet. They will plan how each box is to be packed, pack it in an efficient manner, and pack the truck for space efficiency.
Your Optima Moving will strap everything safely in the back of the truck with tie-downs if your possessions don't fill the entire interior of the truck. It's important that none of your furniture or boxes slide into one another or shift when turning corners. The Bowie MD Movers are ideal helpers on this task; they innately know to place heavier items on the bottom and arrange delicate boxes carefully on top – and they drive with extreme care.