L
ocal move is relocation in 
Maryland
, 
Washington DC
Northern Virginia 
and 
Pennsylvania
.
A local move, as defined in most cases, is a move that is done from city to city within a state or in a 100-mile radius from your current location.
Service Strategies
Every move has unique needs and requirements. Our process is designed to treat each relocation individually, by properly assessing each moves requirements before the move process begins, and then to recommend the service strategies and alternatives available to the family or business. 
We offer you our expert team of consultants, movers and drivers who will take special care of your valuable items, from the moment you call us, until your belongings are carefully placed in your new home.
Optima Moving has all the packing supplies you`ll need. Our movers come with fully equipped truck with a wide variety of boxes and packing materials, so you can pack last-minute items right before it goes into the truck on the day of the move.
Questions and Inquiries
You'll find us to be knowledgeable and experienced professional movers. As full service professional movers, we want to ensure your move will be as exciting, rewarding and stress free as possible. If you have any specific questions our moving counselors will be happy to provide you with answers and moving tips without cost or obligation.
Price Structure
We sincerely believe that a company's success should not be made by over charging their clients. Instead growth should be encouraged by working hard, investing in the right equipment and hiring trained educated professionals.
That's how our price structure is the most rewarding feature of our services. We strive for our prices to be as competitive and appealing as possible without compromising quality or attention to detail. Because we would like to be your mover for many years to come we pledge to keep our prices highly competitive, giving our clients a reliable name to refer back to for their future relocation needs.
We are totally committed to your needs and satisfaction. We want to replace the burden of relocation with the prosperity that comes with smooth move!
Free blanket wrap ( tapes, boxes not included )

Personal Certified Moving Consultant.

No additional fees for weekends and holidays.

Uniformed, professionally trained movers

.
Disassembly and reassembly

No long carry charges.

No stair charges

.

Big 24-26Feet Box truck

.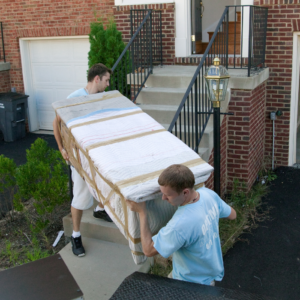 Our Insurance Policy
Limited Liability
At Optima Moving all of your  belonging are covered by our Limited Liability policy at no additional charge. The protection for you, however, is minimal. Under this option, Oprima Moving assumes liability for no more than 60 cents per pound per article. For example, if your 40-pound, 56-inch flat screen television valued at $2,500 is damaged, you would only receive $24 in compensation (60 cents multiplied by 40 pounds) if the television were destroyed beyond repair. To extrapolate further, a 10,000-pound shipment released at 60 cents per pound (per article) may  be worth only $6,000.
Limits to the protection
Actions by you may limit the mover's liability. These include:
Boxes not being packed by the mover. Optima Moving cannot assume liability for boxes it doesn't pack because the mover cannot determine the condition of the items prior to transporting them. It may be more difficult to establish a claim against the mover for damaged items in boxes not packed by the mover.
Packing perishable, dangerous or hazardous materials in the shipment without the mover's knowledge.
Delivering belongings into public storage. If you choose to have the movers deliver your belongings into a public storage facility, the movers' liability terminates upon delivery.